AutoCAD, the renowned CAD software, has been utilized since 1982 for various applications such as architectural plans, layouts, and manufacturing drawings. It is the standard in numerous industries due to its versatility.
This tutorial will cover the fundamentals of AutoCAD in interior design, including navigation, 2D sketching, 3D modeling, technical drawing tools, and working with mesh files, including exporting STL models for 3D printing.
About the Software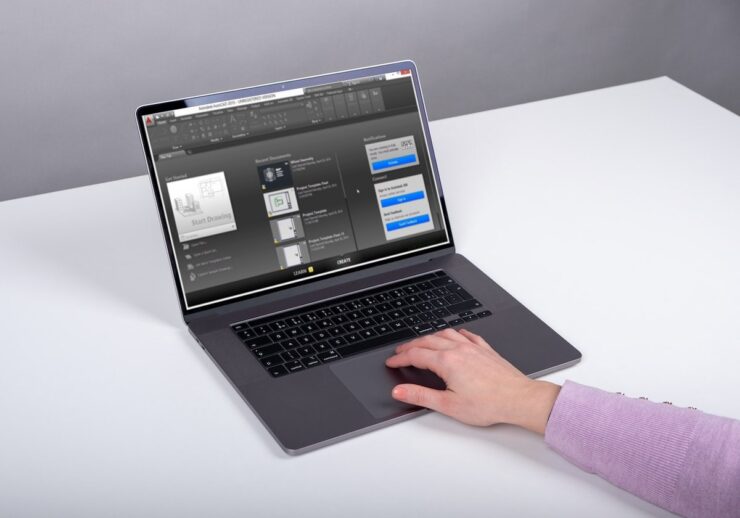 Before getting started with the tutorial, let's introduce the software.
AutoCAD is a powerful and versatile software that is widely used in the fields of architecture, engineering, and product design. It enables designers to create precise and accurate 2D and 3D designs, from basic sketches to complex models.
The software's interface and tools are highly customizable, allowing users to optimize their workflow and tailor the software to their specific needs.
One of the key features of AutoCAD is its ability to create detailed technical drawings. The software includes a range of tools for creating and managing dimensions, annotations, and other important details that are critical to the design process. These tools enable designers to communicate their ideas clearly and accurately, helping to ensure that their designs are built correctly and efficiently.
It also offers advanced 3D modeling capabilities, allowing designers to create complex 3D objects and visualizations. This feature is particularly useful for product designers, who can use the software to create detailed models of their products and test their functionality in a virtual environment.
In addition to its core features, AutoCAD also supports a wide range of add-ons and plug-ins that can be used to extend its functionality. These add-ons provide additional tools and features for specific industries and design tasks, further enhancing the software's flexibility and usefulness.
It is professional design software, so the price is steep at $1,775 per year. Luckily, students and educators get unlimited free access for up to a year. If that's not your case, there are some free alternatives to AutoCAD, as well. Autodesk offers a 30-day free trial for anyone, which is more than enough time to follow along with this tutorial and learn if it's the tool for you!
To download AutoCAD, you'll first need to set up an Autodesk account. There are versions for both Windows and Mac, which vary slightly in terms of UI, but the installation processes are very straightforward.
Why Do Interior Designers Use CAD?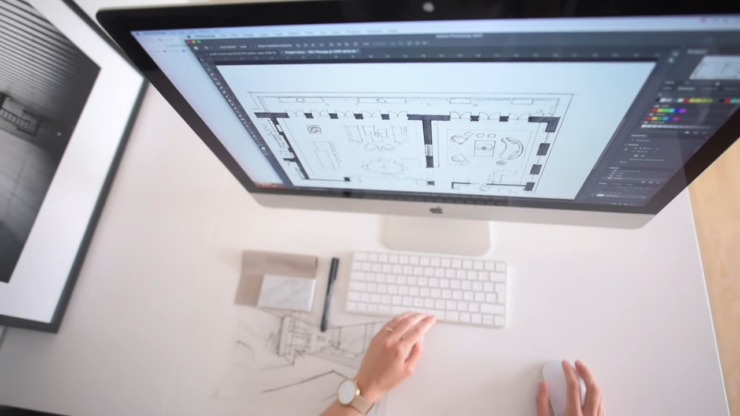 Before we jump into how to actually use AutoCAD, it's helpful to have some understanding of what the software does and why it's popular in the interior design industry.
AutoCAD is a drawing and drafting tool developed and sold by Autodesk that's used by anyone who works with buildings—think architects, engineers, contractors, and interior designers.
The software allows you to create a mockup of any physical space in either a 2D or 3D model much quicker than if you drew them out by hand.
So what is the use of AutoCAD in interior design? The majority of designers will utilize AutoCAD to produce floor plans and room mockups for both commercial and residential structures. The majority will begin with a 2D layout as they collaborate with a customer to plan the overall positioning of important furniture or fixtures.
The ability to transform 2D floor plans to 3D using the RoomMaker tool is one of the best features of software like AutoCAD 2010 for interior designers and space planning. This makes it simple to show clients exactly how their finished room will look.
What Programs Do Interior Designers Use?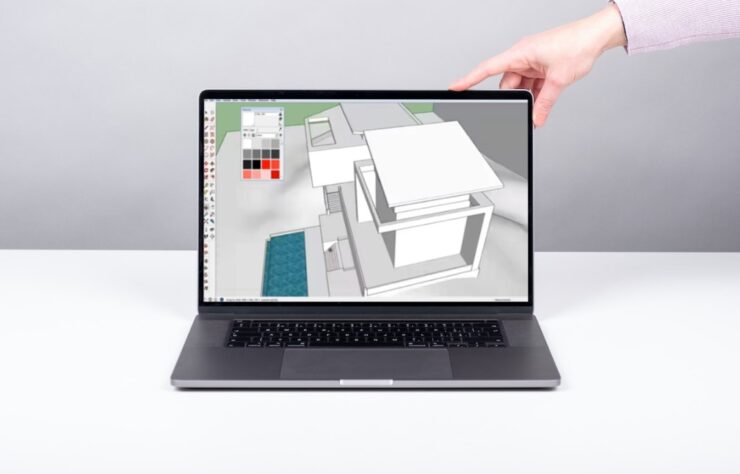 Although not the only tool used by interior designers for planning, AutoCAD is unquestionably the industry standard. Do you want to know how much money you can make working with interior designers in AutoCAD?
The extent of your abilities will determine this, but being able to create striking room designs within the program will undoubtedly allow you to stand out to both current and potential clients.
There are a few other tools that design firms now use that you might also want to brush up on. SketchUp Pro and Autodesk Revit are great pieces of software that allow you to build 2D and 3D models like in AutoCAD. SketchUp also has the added bonus of virtual reality integration to give your clients a "real" walkthrough of their future space.
Yet, if you're serious about working in the sector, you should start with AutoCAD. You've come to the correct site if you're looking for the finest approach to learn AutoCAD for interior designers. Now that you have a better understanding of what the software can do, we'll share a few steps from some of our top AutoCAD for interior designers courses here on Skillshare so that you can begin working on your own room designs today.
How to Use AutoCAD for Interior Design In 5 Steps
When you first encounter a blank project screen in AutoCAD for interior designers, it can be a little overwhelming because there are so many options available.
For the time being, we'll keep things straightforward and show you how to make a dining table and chairs using the tool.
1. Basic Dimensions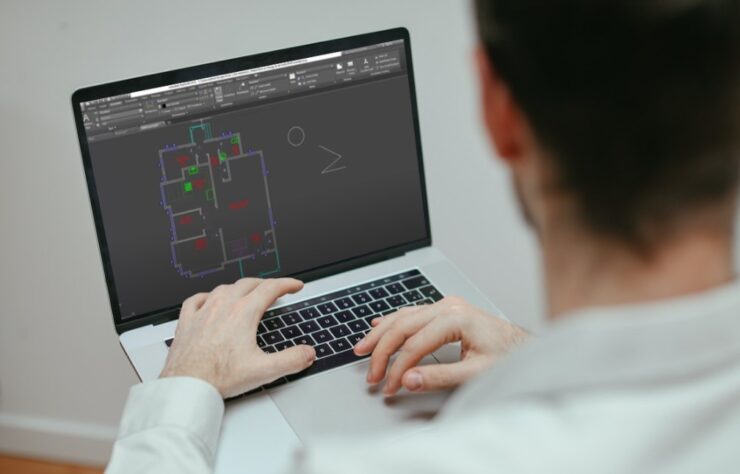 Make a note of the width and depth of the table you'll be creating using either the measurements provided by your client or a sample you located online. Draw the proper measurements in the project space using AutoCAD's "Line" tool. Likewise with your seats.
2. Place Your Chairs Around the Table
Depending on how many seats you'll be using in the design, divide your table into equal portions using the "Line" tool once more.
Slide your chair across the block to highlight it, then key "M" to bring up the "Move" bar. You can then place it anywhere around the table block. Repeat the process until all of your chairs are on one side of the table, where you can then type in "Mirror". This will replicate the chairs, where you can then drag them to the opposite side of the table.
3. Add Side Elevation Drawings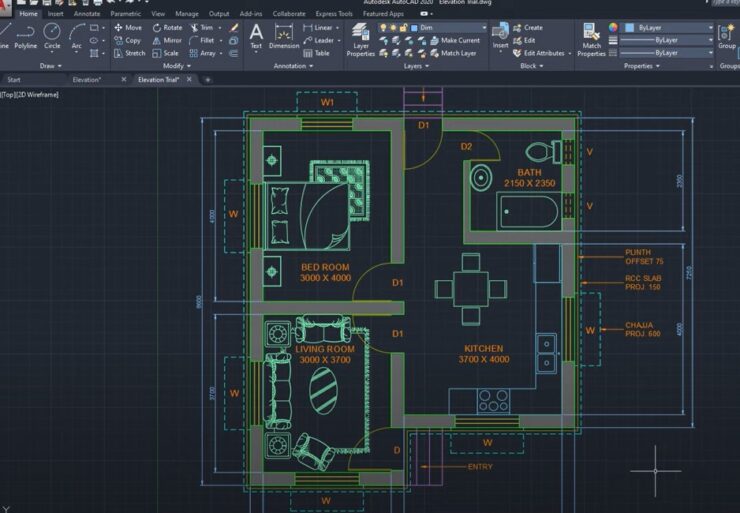 Interior design is big business, and when you're working with clients, they expect the best. That's why mastering digital tools and software like AutoCAD for interior designers is essential if you want to make a name for yourself in the industry.
In this tutorial, we'll show you how computer-aided design (CAD) drawing solutions—AutoCAD 2017 and others—can transform your designs. We'll also cover why you should consider taking AutoCAD classes for interior designers before you even accept your first job in the field and how you can get started straight away on your own projects by learning some basic AutoCAD steps.
4. Add Chair Elevations From a Sample
Find an image that you want to model your chairs after and insert this into AutoCAD using the "File" > "Attach" toolbar.
Scale the image to match your desired chair dimensions and then trace over the chair image with the "Line" tool to create a block. This will give you a 2D model of the chair sample from your reference picture to use in your plan.
Using the "Ray" tool, draw lines from your top-down view up to your elevation so that you can place the chairs in the same positions around the table.
5. Add Color to Your Design
Choose the "Hatch" option in the left toolbar after highlighting the object you want to color. From this point, a new toolbar will appear above your object, allowing you to choose the color. Click into the sections of the table or chair to add the color before finalizing your design.
That's a very basic AutoCAD tutorial, and there's plenty more you can do—interior designers use it to plan out the aesthetic for entire houses.
But, these steps will get you started so you can practice with the software, refine your skills, and boost your comfort level before moving into more complex projects.
Picking Between Auto Cad vs Auto Cad Lt Matters
When you want to get started fast, sometimes you don't need all of the complex functionality AutoCAD has to offer. To provide more choice Autodesk created a 'lite' version in the form of AutoCAD LT. It is a simplified 2D drafting and documentation program that lacks the 3D functionality offered by AutoCAD.
It does however include the same level of 2D precision offered by AutoCAD. Proof, if any were needed, that choosing the software that's right for you is all about finding something you feel comfortable using and don't get overwhelmed by.
Another advantage of using AutoCAD LT is its affordability. With subscriptions starting at just $315/year and flexible monthly payment plans, users can adopt the software without breaking their budget. This is especially useful for those who want to enhance their design process without a significant financial investment.
Additionally, students can access free versions of the software to help them get started, while companies can choose from a variety of bundle options to suit their specific needs.
Is It Difficult for An Interior Designer to Learn Auto Cad Lt?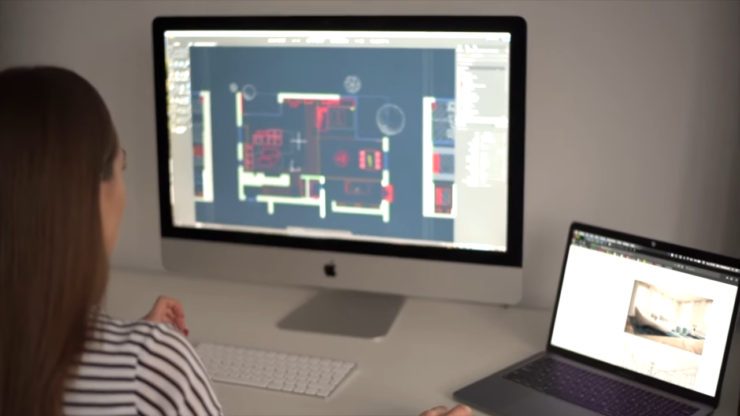 You don't have to understand every single complex feature, you just need to master the basics and get started with your practical learning. While most drafting is done with a handful of tools, there a few other additional features that are of great importance to know for efficient power drafting such as xrefs, clipping (xclip), associative dimensioning, image import, image scaling, hatching, pdf import, dim style selection, setting units and importing blocks will all allow you to get further than before with your learning.
Just what you want to hear when you're looking for a tool that makes a real difference.
FAQs
How Long Does It Take to Learn AutoCAD for Interior Design?
The length of time it takes to learn AutoCAD for interior design can vary depending on the individual's background, learning style, and level of commitment. Some people may be able to pick up the basics of the software relatively quickly, while others may need more time to become proficient.
In general, it's recommended that beginners dedicate several weeks to learning the basics of AutoCAD, including the interface, tools, and commands. With consistent practice and ongoing learning, it's possible to become proficient in AutoCAD within a few months. However, becoming a highly skilled and experienced user may take several years of practice and continued learning.
Can I Learn AutoCAD On My Own?
Yes, it is possible to learn AutoCAD on your own. There are a variety of resources available for self-paced learning, including online tutorials, video courses, and textbooks. Autodesk, the company that develops AutoCAD, offers a range of free resources and learning materials on their website, including tutorials, webinars, and documentation.
In addition to online resources, practicing with the software is crucial for becoming proficient. Many users find that experimenting with the software and practicing on their own designs is an effective way to learn. As you become more comfortable with the software, you may also consider joining online communities or forums where you can connect with other users and learn from their experiences.
Is AutoCAD Difficult?
Learning AutoCAD can be challenging for beginners, but with consistent practice and dedication, it is possible to become proficient. The software has a wide range of tools and features that can seem overwhelming at first, and the user interface may be unfamiliar to those who are new to CAD software.
However, AutoCAD is designed to be user-friendly, with intuitive navigation and a wide range of resources available to help users learn the software. There are numerous online tutorials, textbooks, and video courses available to guide users through the learning process, and Autodesk provides a range of free resources and documentation to support users as they learn.
Do You Need a Good PC for AutoCAD?
Yes, it is recommended to have a good PC for running AutoCAD smoothly. AutoCAD is a graphics-intensive software that requires a computer with adequate processing power, memory, and graphics capabilities.
Autodesk recommends a minimum of 8GB of RAM for running AutoCAD, although higher amounts of RAM will provide better performance. A dedicated graphics card with at least 2GB of video memory is also recommended for handling the graphics demands of the software.